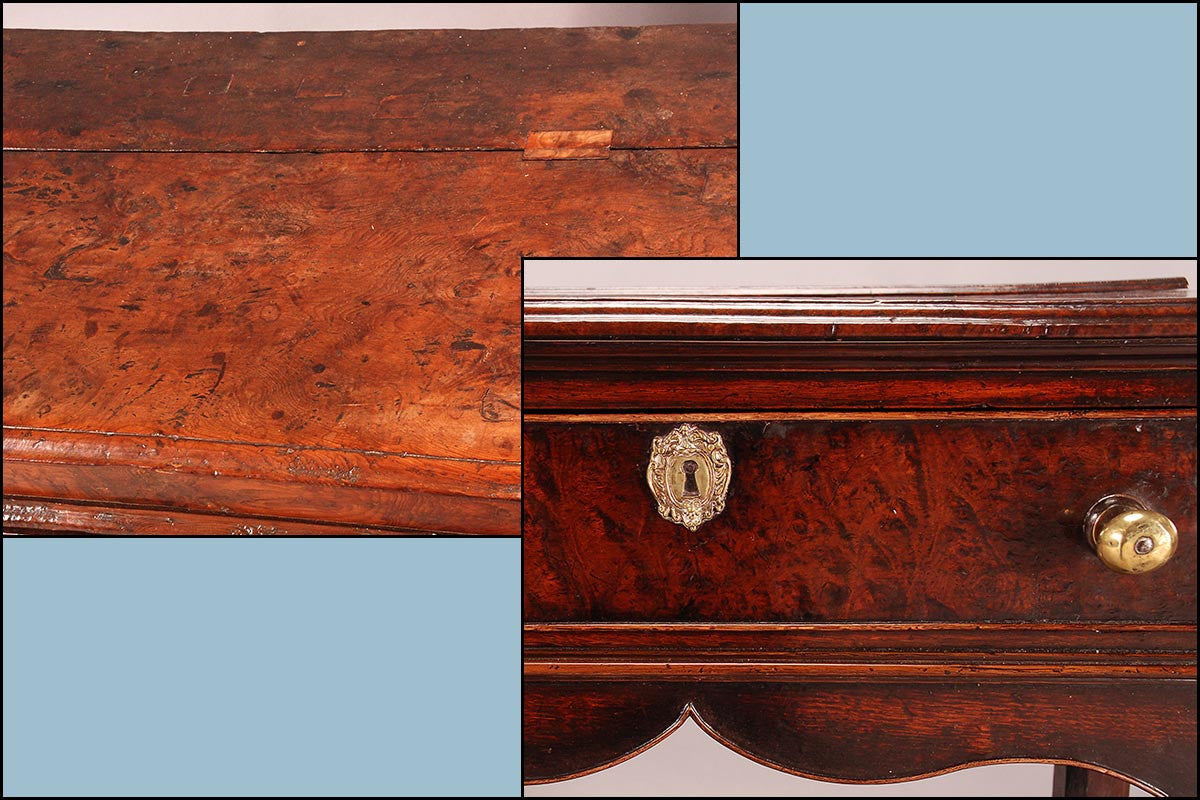 Two Dressers in Unusual Timber
We consider ourselves to be timber junkies. If you've ever gotten lost gazing into the patterns and colors found in the grain of old wood, then you know may be one as well. It can be as captivating as picking out patterns in the clouds of a summer day. We're constantly on the prowl for furniture that satisfies our habit, and we've had some recent luck with the two following dressers. The first is a potboard dresser with shaped and beaded apron:
This desirable form is associated with Montgomeryshire on the Welsh/English border. This example has particularly graceful, turned legs and the unusual feature of fluted pilasters flanking the drawers. But what really sets it apart are the gorgeous burr oak boards used in the top and drawer fronts. We've had a few Montgomeryshire dressers in the past, and we've had a few burr oak dressers also, but we've never seen the combination of the two. The result is a real beauty of a dresser.
The second dresser is an earlier and more primitive form:
This cupboard dresser is built of yew wood, mostly burr yew. This timber is even more unusual to find on a dresser than the burr oak discussed above. Yew wood is the very strong yet pliable wood that was used for the Irish long bows of medieval times. In furniture, yew is probably best known for the spindles, back-splats, and bent-wood components of Windsor chairs. While it is unusual to find larger pieces like this built of burr yew, we actually also have a 15' long breakfront veneered entirely in burr yew.
As enthusiasts of wonderful woods, we're excited to see such beautiful grain and warm color. Unusual timbers and grain can elevate a more ordinary form of furniture to something out of the ordinary. Please click through to the links for the pieces above to see more detailed images of the wood grain that sets these pieces apart.