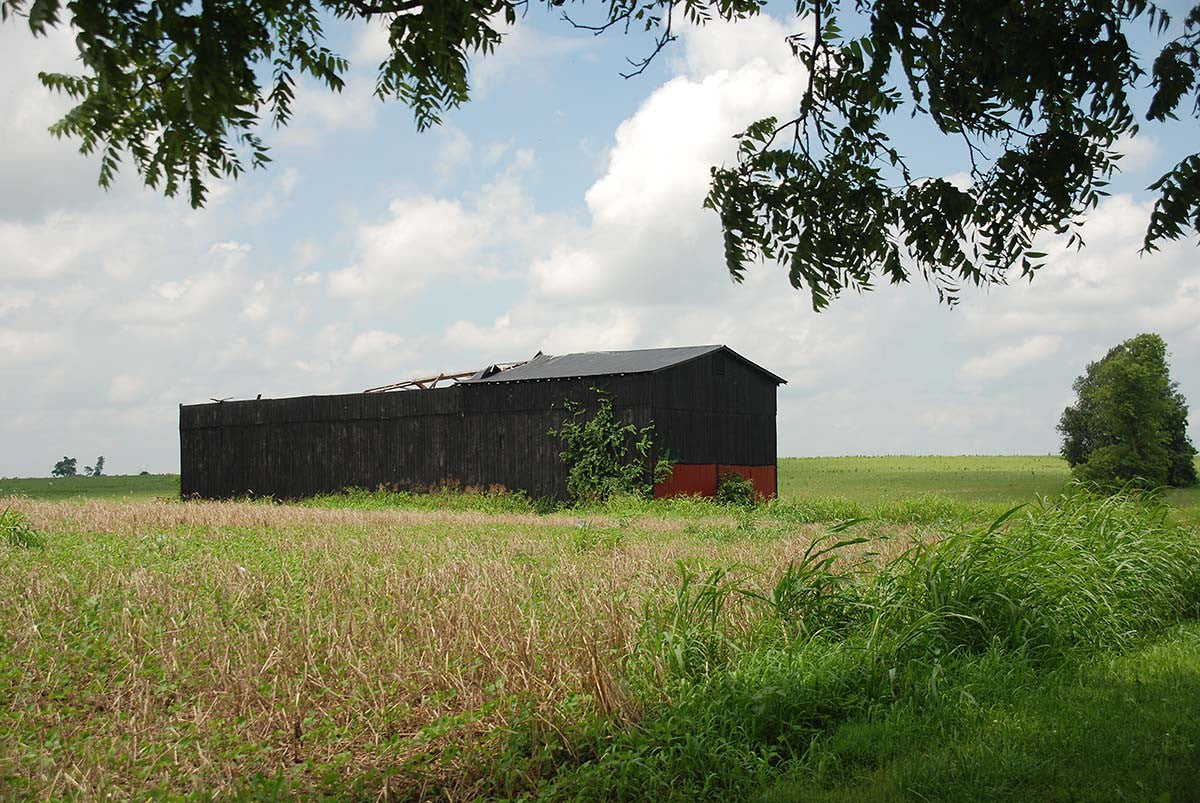 We were disappointed to discover a few weeks ago that a storm had ripped the roof off our neighboring tobacco barn. The disappointment turned to sadness as our landlord informed us that the cost to rebuild the roof is just too great and the barn will be coming down. More than just losing a place to store our old crates, we feel like we're losing a connection to our collective past. Much of the job of an antique dealer is to act as a preservationist; encouraging the appreciation of old stuff, finding new uses for it in the modern world, and teaching people how to care for it. As such, we are always heart-broken to lose forever an old friend.
With each passing year, more and more of these tobacco barns are lost to the dustbin of history. In the years since the federal tobacco settlement, the once common sight of fields teeming with the leafy green crop is becoming rare; and so too the sight of the auburn leaves hanging in the iconic black barn to dry. While we hold no nostalgia for the days when the health dangers were unknown, we must admit a bit of the pastoral character of Kentucky is certainly fading with the disappearance of these barns. Which is why it has been refreshing to see several of them repurposed for a new generation to enjoy. There are numerous barns that now serve as charming wedding venues. The Shaker Village at Pleasant Hill has started a world renowned and well-reviewed chamber music series in one of their old tobacco barns just a few miles from our shop. And in the case of the most dilapidated barns, the timber will almost always find new life. The reclaimed lumber industry is booming as builders seek out the personality (not to mention thicknesses) that can only be found in old wood.
Much like Kentucky's tobacco barns, the supply of antique furniture is a finite resource ("They ain't makin' any more of it"). We take very seriously our responsibility to help preserve that resource by creating new markets for these pieces in today's interiors; by helping to foster an enthusiasm for owning and cherishing these pieces as artifacts of our human past; by recognizing the importance of things that were built to last, especially in the current world of dwindling resources.